Memjet Durabolt Print Bar
Product ID: 17954
New Listing
Year: NEW
Make: Memjet
Model: Durabolt Print Bar

Click here to contact us about this product »
NEW PRODUCT ANNOUNCEMENT!
MEMJET WIDE WEB HIGH SPEED PRINTING

Capital Mailing Equipment is proud to announce a New Partnership with Memjet a leading global Inkjet manufacturer to introduce the New Durabolt Print Bar to the US markets for high speed printing.
Fully Stitched Wide Web Printing at 1600 dpi
The DuraBolt PrintBar is a high-volume, monochrome print solution designed to deliver exceptional speed in wide web applications. Sold directly to printers, this ultramodern print system enables printers to create advanced hybrid printing solutions at an attractive price point.
The DuraBolt PrintBar is a powerful print solution that delivers Memjet's hallmark 1600 dpi print quality across wide web monochrome applications. It provides printers with a new opportunity for profitable production imprinting with customizable functionality delivered at exceptional value. DuraBolt PrintBar is easily integrated into existing infrastructure and is augmented by a sophisticated digital front end (DFE) that provides highly intuitive operations.
Hybrid Printing at Offset Print Speeds
The DuraBolt technology series has been engineered for high speeds and outstanding print quality for print widths up to 39.25 inches. The DuraBolt PrintBar can deliver print speeds up to 980 feet per minute, while maintaining offset quality. It enables printers to build on their simple imprinting experience and turn their systems into true hybrid printing solutions with customizable functionality delivered at exceptional value. With print quality resolutions of 1600dpi, the DuraBolt PrintBar mimics offset quality using state-of-the-art printhead technology from Memjet. The solution includes printing and print control technology, simplified maintenance, automated print head tending, and a robust DFE.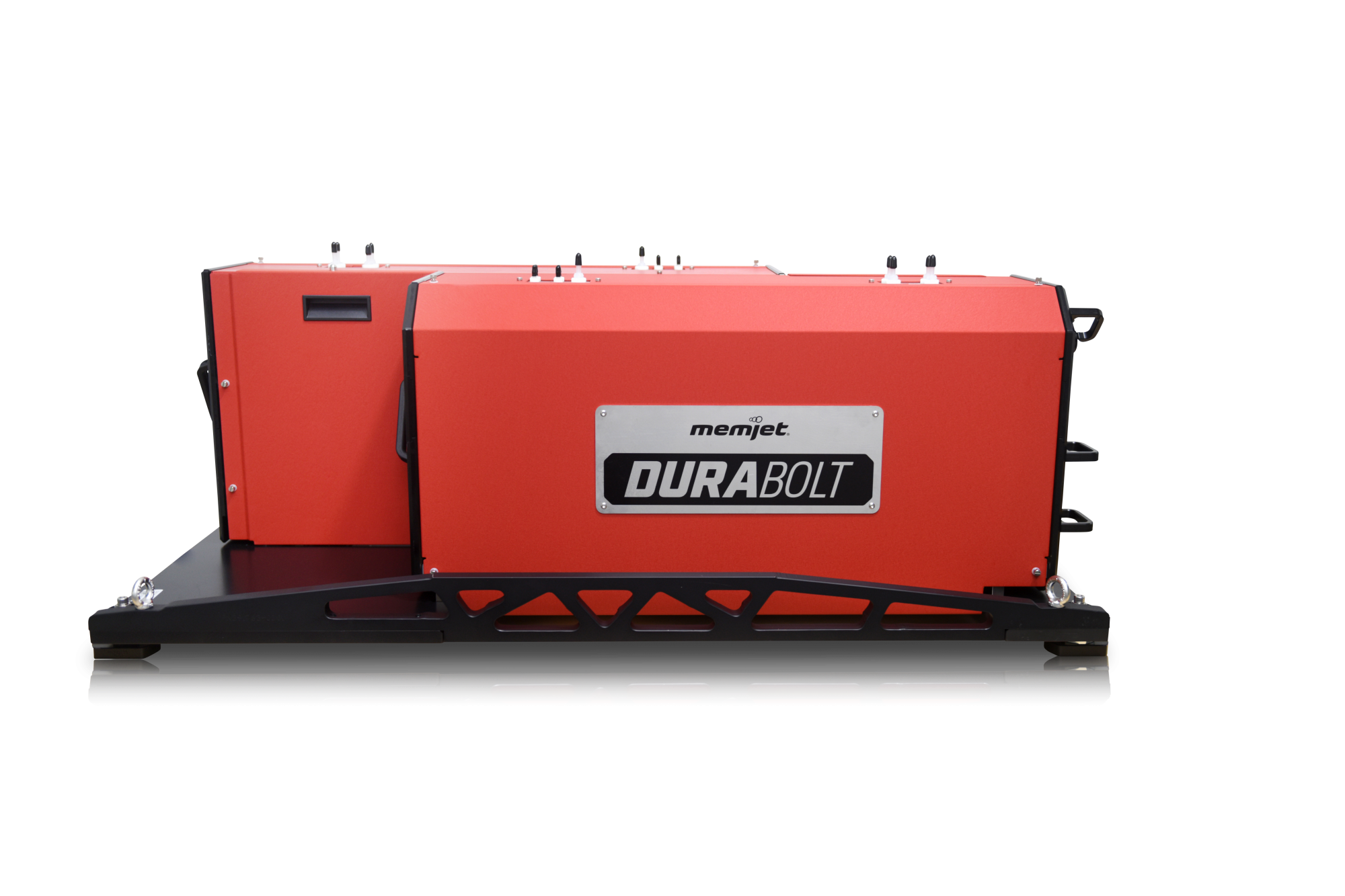 Increase Productivity with 10x Nozzle Redundancy
At the core of the DuraBolt PrintBar is a printhead based on Memjet's Advanced Thermal Inkjet Technology. This technology achieves drastic reductions in inkjet blockages and issues with an impressive 10 times nozzle redundancy. The 1600 dpi printheads feature 10 rows of nozzles firing 2.1 pL drops in patterns designed to minimize artifacts and reduce downtime.
Easy Integration for Advanced Hybrid Solutions
Powerful ModBus solution architecture is a key feature of the DuraBolt PrintBar technology. It enables smooth integration with existing printing systems and product extensions, plus simplified control of the hybrid system.
Full Web Printing
The DuraBolt PrintBar eliminates the need for true black plate changes on offset presses to simplify
the process and reduce production times.
Automation and Simplicity
Further productivity gains come from automated printhead calibration, which retains print quality from job to job. Configurable, automatic maintenance cycles mean minimal downtime. While the print engine's rapid start up supports further productivity gains. Periodic printhead replacement is quick and easy with no need for skilled technicians.
Eliminate Position Adjustments
Streamlined job setup is achieved with a single line head that eliminates the need for position adjustments associated with multi-rail systems.
Minimized Need for Operator Intervention
Easy to install, operate and maintain, the DuraBolt PrintBar minimizes operator involvement with advanced features such as automated head wiping, capping, and print gap positioning. Print-on-page positioning is also digitalized as are other general maintenance and cleaning operations. Additional options include air and humidity conditioning systems that minimize the impact of seasonal fluctuations on productivity.
Reduce Costs and Enhance Productivity
The DuraBolt PrintBar has been designed with cost savings and productivity gains in mind. With up to 30 per cent lower acquisition and running costs plus around 30 per cent increases in productivity, this powerful new technology delivers on its productivity promise.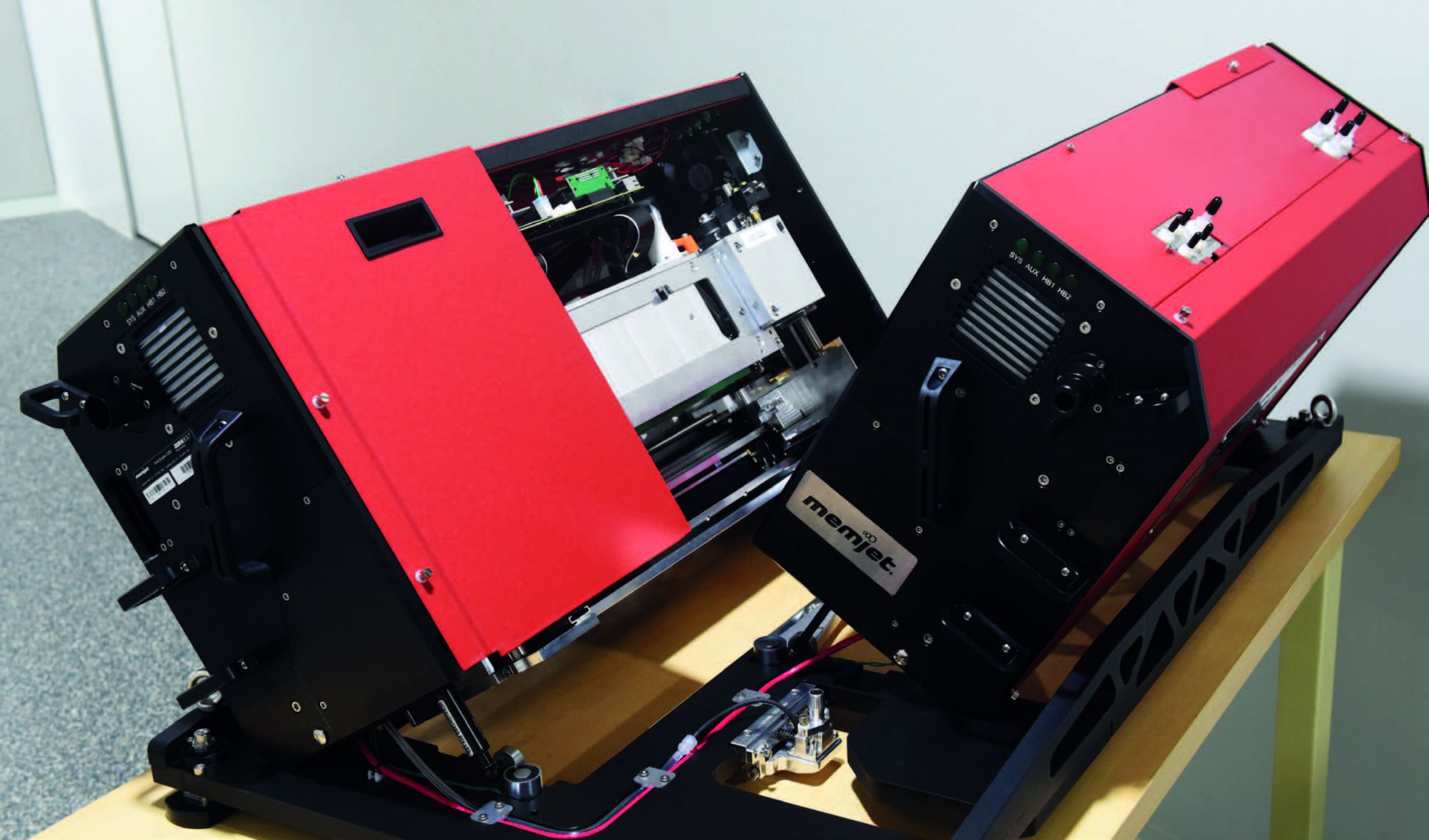 DuraBolt PrintBar Specifications
Parameter

Specification

Digital Engine

Memjet Advanced Thermal Inkjet

Resolution

1600 x 790 dpi

Print width (Up to)

324 mm (12.75 inch)

645 mm (25.5 inch)

970 m (38.25 inch)

Number of printheads

1 printhead for 324 mm

2 printheads for 645 mm

3 printheads for 970 mm

Printhead life

Up to 500 L per printhead depending on job design

Ink type

Aqueous black pigmented ink in 55L containers

Nozzle redundancy

10 nozzles stacked and aligned

Press footprint

680 mm (<27 inch)

Maximum Linear Print Speed

980 fpm

Printhead maintenance system

Automated and configurable. Provides

cap, wipe and purge functionality

Fluid control system

Precision ink supply system including ink recirculation

Alignment to offset shell

Digital alignment with workflow. Fine-tuning via DFE.

Communication protocol

ModBus TCP enabling PLC connectivity to various

press and finishing items

Digital Front End SW

Integrated RIP and controller

Interactive HMI / dashboard

Integrated into DFE

Workflow

PDF and PDF/VT
---
Most Popular Products