Streamfeeder Modular Systems / Tip-on / Attaching Converge C-900 and C-1200 Tip-on Feeders
Product ID: 16365
New Listing
Year: NEW
Make: Streamfeeder Converge C-900 and C-1200 Tip-on Feeders
Model: Converge C-900 and C-1200 Tip-on Feeders

Click here to contact us about this product »

Streamfeeder Modular Systems / Tip-on / Attaching Converge C-900 and C-1200 Tip-on Feeders
Overview:
The Converge Series Tip-on Feeders are designed to be a modular, high-speed accurate placing feeder. Precision placement of products onto carrier targets is performed consistently and accurately at high speed. The modular design allows Converge feeders to be easily integrated to existing equipment such as folder/gluers, vacuum bases, conveyors, or configured as part of a turn-key attaching system.
Feed a wide variety of flat and multi-thickness products including cards,coupon, and more up to 24,000 pieces per hour (business card).
Standard Features:
Long lasting natural gum rubber feed belt with vacuum assist ready.
● One-knob side guide adjust ● Adjustable discharge angle ● Servo motor/controller ● Encoder ● Pushbutton operator interface ● Universal mount for most bases ● Stainless steel construction ● High performance product sensor ● System I/O interface ● Variable adjust placement position ● Discharge guides to ensure side-to-side registration ● No-adjust hold-down.
Applications: (ask us about your application)
Mailing Systems / Flighted Infeeds / Conveyors / Vacuum Transports / Folders/Gluers /Box Packaging.
Products: (ask us about your products)
Plastic Cards / Collapsed Cartons / Folded Documents / Manuals / Coupons / Magnets /Cardstock / Envelopes Booklets / Backer Board / Business Cards and more.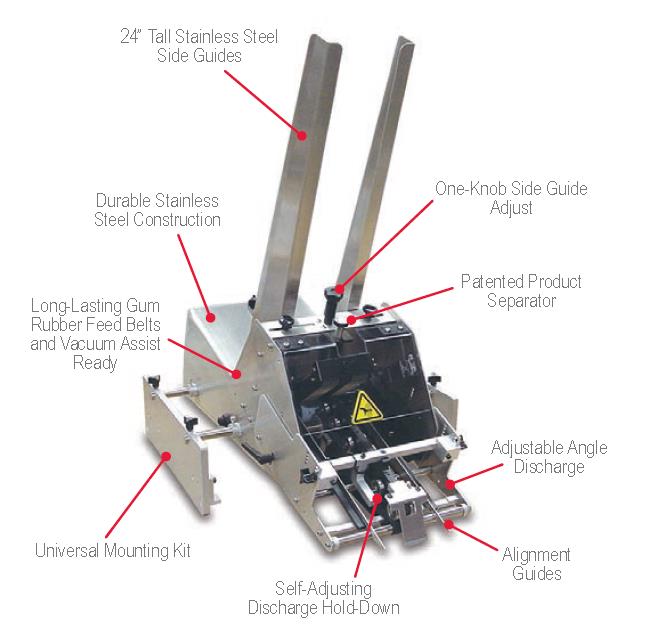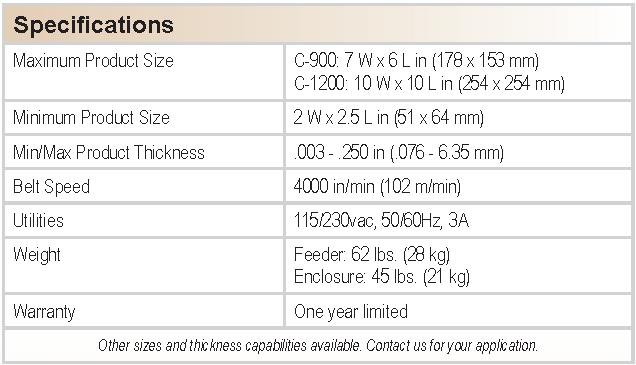 ---
Most Popular Products