Mosca Strapper EVOLUTION SONIXS MP-6 T
Product ID: 16964
New Listing
Year: NEW
Make: EAM Mosca
Model: EVOLUTION SONIXS MP-6 T

Click here to contact us about this product »

Mosca EVOLUTION SONIXS MP-6 T
Automatic Strapping Machine
One machine - suitable across all industries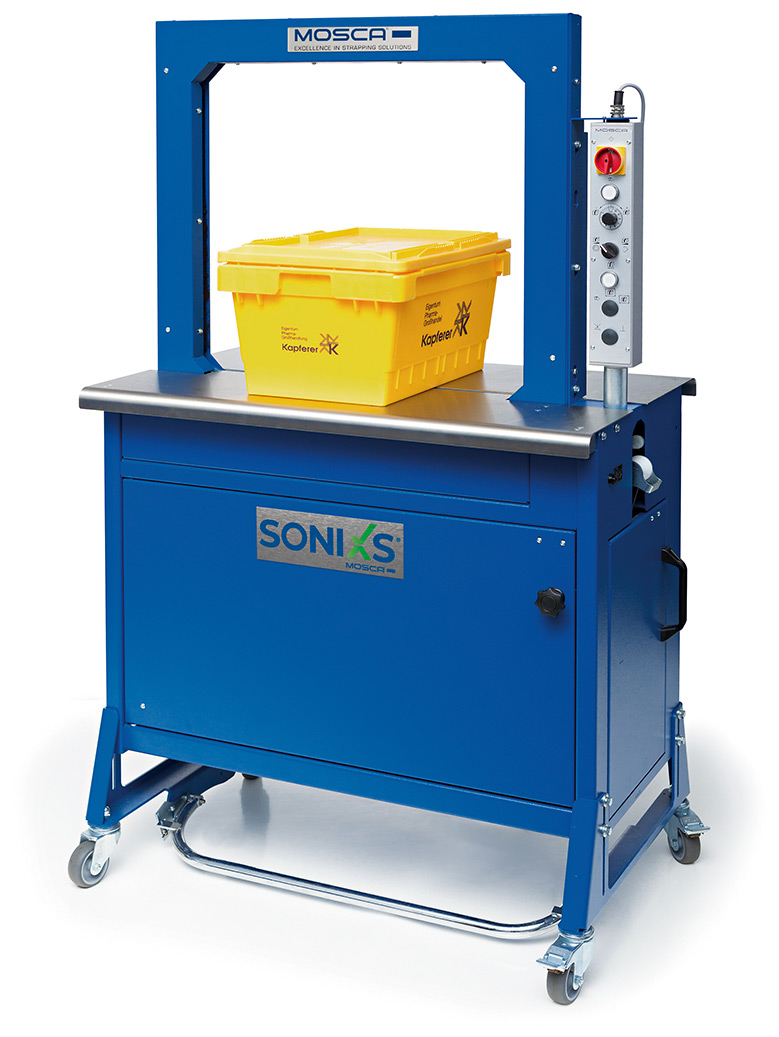 The automatic strapping machines of the MP series have been standing the test of time across the world. They are solid, reliable and easy to operate. In the generation EVOLUTION, modern technology meets tradition. The advanced high-end Standard 6 sealing unit sets standards for automatic strapping machines at entry level.
The compact machines are particularly suitable for the strapping of small packages and stacks. Due to its space-saving design, the machine can be used in a confined space. If necessary, the EVOLUTION with its high power of up to 58 cycles per minutes and its rotating panel can be fed from both sides. This avoids unnecessary idle time for operators.
The EVOLUTION offers
• higher strapping speeds
• continuous adjustable strap tension
• choice of strap widths
• diversity of options
• soft strapping

The EVOLUTION is ideal for a wide range of applications including
• Printing: for wholesalers who need to strap different products quickly and reliably
• Cardboard packages: for quick strapping of many packages within short time frames
• Distribution / Mail: at distribution centres where high-quality work within minutes is in high demand
Technical Details
Capacity: up to 58 cycles / min. at 5 mm strap width
Straps: 5, 8, 9, or 12 mm
The machine is adjusted to one of the mentioned strap widths.
Strap coil dispenser:
Core diameter: 200 mm
Core width: 190 mm
max. outer diameter: 430 mm
Electricity:
Voltage: 110-240 V, 50/60 Hz, 1L+N+PE
Power consumption: ca. 0.2 kW
Sealing unit: Standard 6 unit
Weight: 190 kg (at frame size 600 x 600)
Frame sizes:
500 x 400 mm
600 x 600 mm
800 x 400 mm
800 x 600 mm
800 x 800 mm
1000 x 800 mm
1250 x 600 mm
1250 x 1000 mm
1650 x 600 mm
---
Most Popular Products