Streamfeeder VTS-2000 Vacuum Transport System
Product ID: 16393
New Listing
Year: NEW
Make: Streamfeeder
Model: Streamfeeder VTS-2000 Vacuum Transport System

Click here to contact us about this product »

Streamfeeder VTS-2000 Vacuum Transport System
Overview:
The VTS-2000 is the ideal multi-purpose system to handle all that you throw at it. From scanning, to printing, to labeling, to addressing, to tipping/attaching, and more you can be assured that this system will provide all the flexibility required of fulfillment systems today. The heavy-duty base equipped with the versatile V-2000p large product friction feeder will provide years of service at an affordable price. Consistently feed and transport a wide variety of flat and multi-thickness products up to 20" wide at speeds up to 245 feet per minute for barcode reading, printing, print verification, tipping, and more. The system can be used as an offline production system or simply remove the feeder and put it inline with other production flows.
Standard Features:
Heavy-duty construction ● 5-foot deck length ● Dual vacuum belts ● Adjustable outside belts ● Easy to use push button controls ● Aluminum deck top ● V-2000p feeder featuring repositionable feed belts ● Independent side guide positioning ● Extended guide rails all the way through the feeder
Two independent adjustable product separators ● Long lasting natural gum rubber feed belts ● Variable speed control ● Heavy-duty DC motor with gear box ● Universal external run interface kit.
Applications (ask us about your application)
Labeling / Tabbing / Date Stamping / Addressing / Verification / Attaching / Tip-on / Affixing / Printing Scanning / Coding.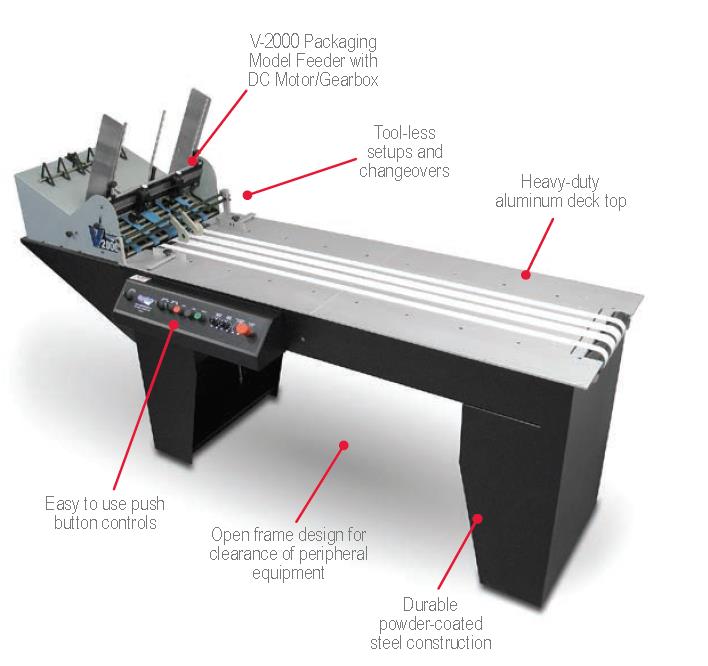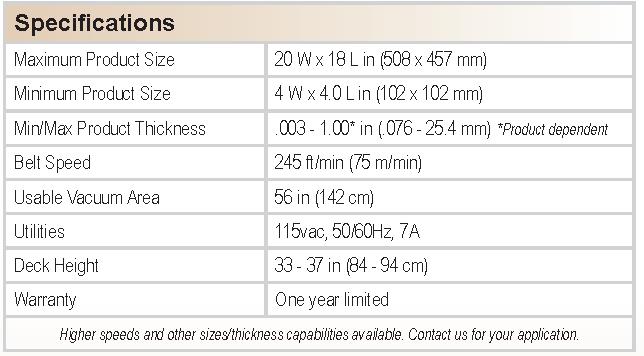 ---
Most Popular Products