Streamfeeder V-710DM Replace-A-Station Inserter Feeder (9x12)
Product ID: 16342
New Listing
Year: NEW
Make: Streamfeeder
Model: V-710DM Replace-A-Station Inserter Feeder (9x12)

Click here to contact us about this product »

Streamfeeder V-710DM Replace-A-Station 9x12 Inserter Feeder
The V-710DM provides the flexibility of automating "jumbo" format gripper arm inserters and ink jet/tabber bases. The V-710DM allows for quick and easy installation onto most major brands of vacuum/non-vacuum bases and gripper arm inserters. Increases the throughput and reliability of addressing bases.
Overview:
The V-710DM Replace-A-Station Inserter Feeder combines flexible performance with superior feeding capabilities to precisely separate, singulate, and present many types of product types and sizes to the gripper jaw of "Large Format / Jumbo" swing arm inserters. Job setups and changeovers are easily and quickly accomplished via tool-less adjust features. A large capacity hopper is designed to be loaded from the front or rear of the machine maximizing operator efficiency. The clutchfree motor provides long, dependable performance and the feeder is backed by a two-year limited warranty. The V-710DM can also be used to feed products continuously to ink jet and tabber bases and comes standard with a dry contact interface that can be wired to bases for synchronized start/stop control.
Standard Features:
Long lasting natural gum rubber feed belts ● Independent side guide positioning ● Self-adjusting discharge hold down ● Patented product separator ● High-performance photo sensor with tool-less adjust ● Variable speed control ● Adjustable angle rear feed belts ● Suction cup mounting to the rear inserter table and shuttle plates ● Material control springs to keep products in position at the jaw ● Small product insert plate ● Two wire. start/stop interface cable for integration to inkjet & tabber bases.
Applications: (ask us about your application)
Swing-arm Inserters, Inkjet Bases, Tabbers, Labelers.
Products: (ask us about your products)
Sheet Paper / C-Folds / Z-Folds / Manuals / Business Cards / Payment Booklets /Cardstock / Envelopes Plastic Cards /Post Cards / Brochures and more.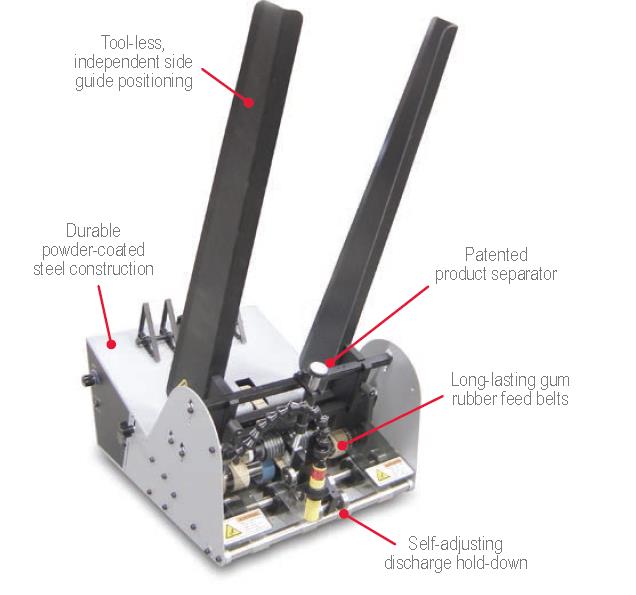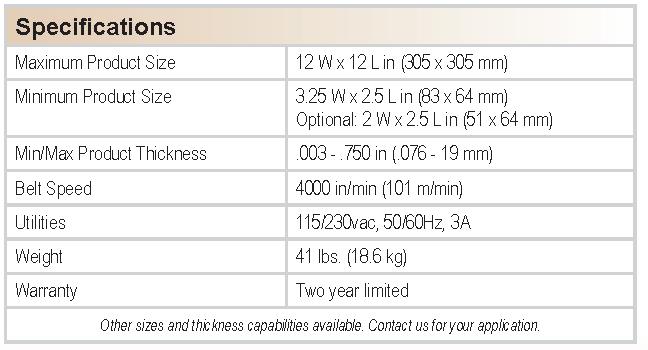 ---
Most Popular Products