Kodak to Sell Prosper Enterprise Inkjet Business
March 28, 2016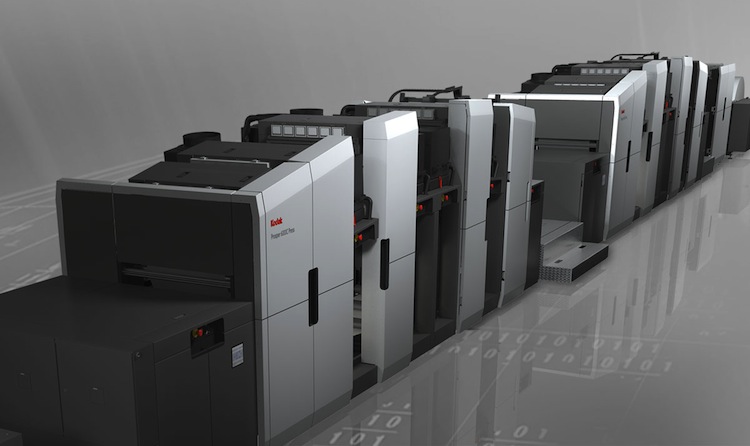 Kodak in Talks to Sell Prosper Enterprise Inkjet Business
Eastman Kodak Co. said it is in talks to sell its Prosper enterprise inkjet business and also plans to exit silver metal mesh development, focusing instead on developing touch sensors on copper mesh technology for its fledging micro 3-D printing operations.
To account for the moves, Kodak cut its 2016 revenue guidance, saying it now expects $1.5 billion to $1.7 billion, compared with its earlier view of $1.8 billion to $2 billion. It reported $1.8 billion in 2015.
It affirmed its earnings before interest, taxes, depreciation and amortization projection of $130 million to $150 million.
The announcements Tuesday came as Kodak, which emerged from bankruptcy protection in 2013, reported it swung to a fourth-quarter profit and narrowed its annual loss for the year to $75 million from $118 million.
Kodak said it would continue to make photographic silver-halide film and that it expected to book an unspecified impairment charge in the March quarter tied to the silver metal mesh exit.
The Rochester, N.Y., company has hired Sagent Advisors and DC Advisory to manage the Prosper sale. Prosper, which had been one of Kodak's growth areas, accounted for about $81 million, or 5% of sales in 2015, Kodak said.
Enterprise inkjet systems, which includes Versamark products, accounted for 10% of its revenue last year. Versamark is not for sale.
Founded in the 1880s, Kodak revolutionized photography by introducing an easy-to-use camera that it marketed with the catchy slogan, "You press the button, we do the rest."
In 1975, it invented the digital camera, but the company struggled to adapt to changing consumer electronic tastes and, after decades of missteps, filed for bankruptcy protection in January 2012. As part of its restructuring effort, Kodak closed its iconic camera-making business.
In January, Kodak said it planned to introduce a camera based on its Super 8 design, betting on renewed interest in the analog medium that Hollywood veterans used to learn their trade. The new camera, however, will feature a digital viewfinder, and buyers who turn to Kodak to process the film will get a digital copy along with 8-millimeter film to use in projectors, Chief Executive Jeff Clarke said.
As for earnings, Kodak on Tuesday reported a fourth-quarter profit of $24 million, compared with a year-earlier loss of $42 million.
Revenue fell 12% to $467 million, or a drop of 7% when adjusted for currency translations, driven by the expected decline in sales of legacy consumer inkjet printer cartridges.
The print systems division, which accounts for more than half of Kodak's revenue, reported an 11% revenue decline, or 5% decline when adjusted for currency translations.
Kodak's shares closed Tuesday at $11.02, down 40% over the past 12 months.
Write to Maria Armental at maria.armental@wsj.com
  (END) Dow Jones Newswires
  03-15-161845ET
  Copyright (c) 2016 Dow Jones & Company, Inc.