Sure-Feed Flexible Inkjet Transports and Dryer Bases
Product ID: 16323
New Listing
Year: NEW
Make: Sure-Feed
Model: Flexible Inkjet Transports and Dryer Bases FIT

Click here to contact us about this product »

Sure-Feed Flexible Inkjet Transports and Dryer Bases FIT
Print, scan and label
The Flexible Inkjet Transport is a flexible, lower cost-of-entry inline or standalone print solution built on a compact vacuum base table system that is perfect for those with limited space. Easy to set-up and operate. The system processes material at speeds up to 16,000 mail pieces per hour.
This system includes optional scanning and diverts capability. Flexible Inkjet Transport adds more value to your operation.
Available in 36"inch / 56" inch / 72" inch models.
This product is TUV/CE certified.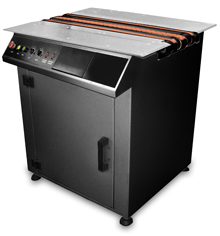 ---
Most Popular Products