Sure-Feed Flexible Bindery Interface FBI
Product ID: 16312
New Listing
Year: NEW
Make: Sure-Feed
Model: Flexible Bindery Interface

Click here to contact us about this product »

Sure-Feed Flexible Bindery Interface
Increase productivity by automating processes, consolidate workcells and expand services
The Flexible Bindery Interface is easy to set up and requires minimal operator training to run. It can help align your existing bindery interface so that folded material feeds directly into a high speed inserter's enclosure feeder all inline. The input allows you to replace multiple manual loading and transport processes with a seamless material flow at speeds up to 14,000 mail pieces per hour.

The Flexible Bindery Interface enables workcell integration in your mail operations. It delivers new opportunities to consolidate floor space and establish a more ergonomic and productive working environment that helps maximize savings with reduced operational costs.
- Available independently or with the cross-flow aligner table. (Shown Below.)
Overview: Increase productivity by automating processes, consolidate workcells and expand services.
Specifications:
Maximum Paper Size 19 W in (483 mm) Minimum Paper Size 7 in (178 mm) HigH Volume Letter in Page Sizes 8.5 W x 11 L in (216 x 280 mm) 7 W x 11 L in (178 x 280 mm) 8.5 W x 14 L in (216 x 356 mm) 8.5 W x 17 L in (216 x 432 mm) Paper Weight 18 to 80 lb. cover Transport Length 96 in (244 cm) Speed Up to 14,000 pieces/hour Other sizes and thickness capabilities available. Contact us for your application.
Flexible Bindery Interface with Crossflow Aligner Table
The crossflow aligner table provides even more flexibility for the Flexible Bindery Interface by providing the ability to receive products in a two up fashion and automatically process and load in a single stream.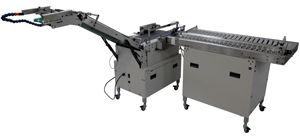 ---
Most Popular Products